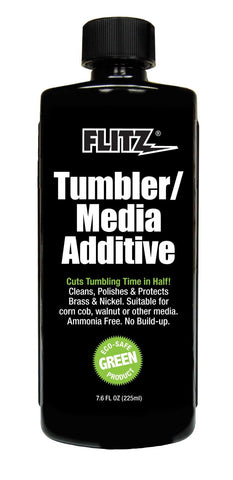 Flitz media polish tumbler additive in 7.6 oz bottle
---
Will not harm ANY METAL or Primer. Will not stress brass. No Ammonia. No Buildup. Suitable for corn cob, walnut or other media. Cuts tumbling time in half. Cleans, polishes & protects brass & nickel. Eco-safe product.

Removes: 
Oxidation, Tarnish, Lead Buildup and Fingerprints.

Safe for:
Safe when used on ANY Metal. Will not Deaden the Primer. Will not Stress or Imbrittle Brass. No Ammonia. No Buildup.
Add 1oz per 1lb of media, to rejuvenate add one capful to media.